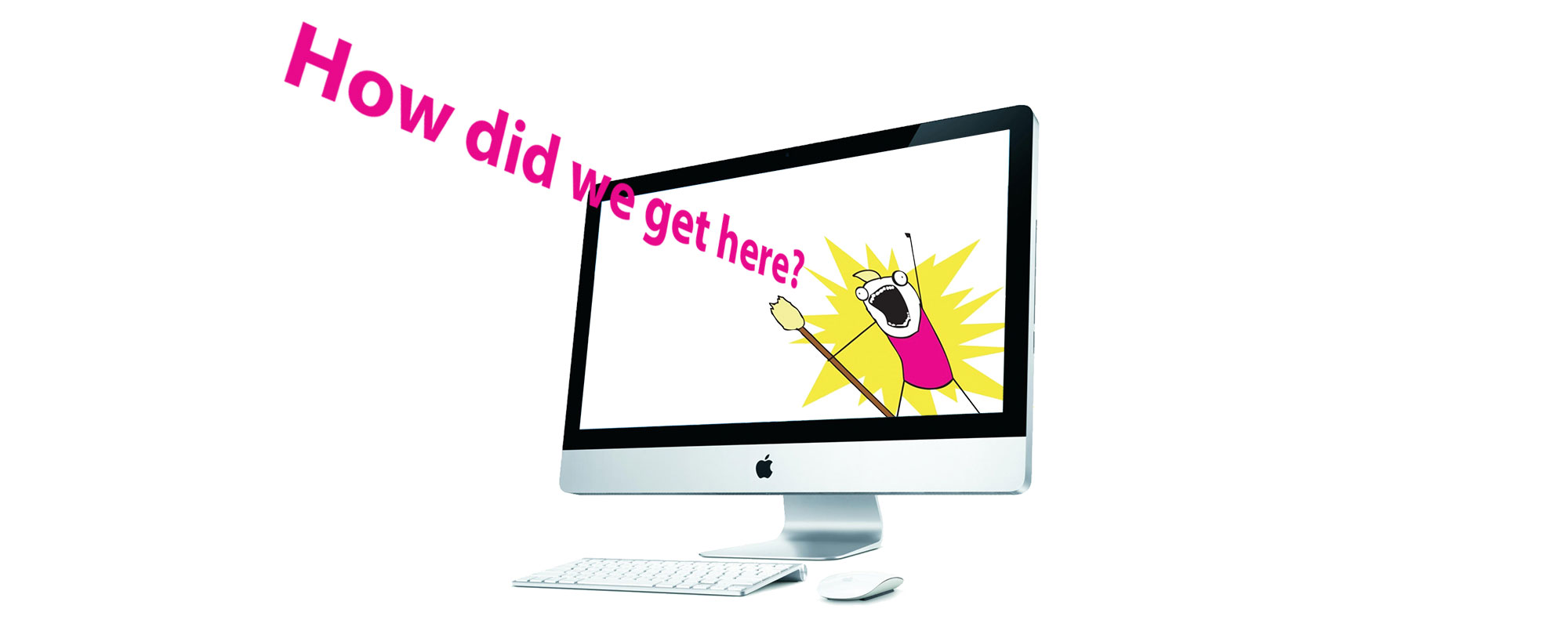 1. How did we get here?
A brief history of website building: 1990-2009 (the first 2 decades)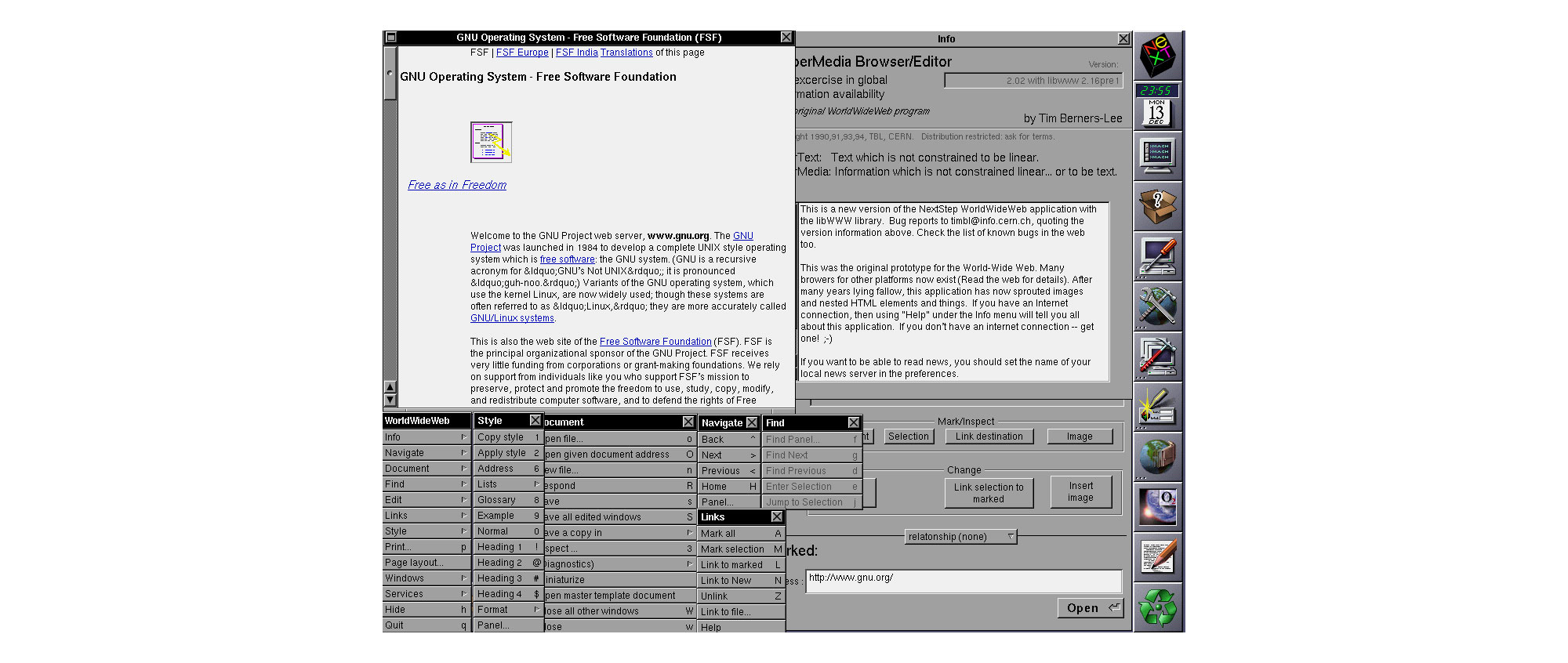 The first web browser was 30 years ago [1990]
Tim Berners-Lee wrote what would become known as WorldWideWeb on a NeXT Computer during the second half of 1990, while working for CERN.
The first successful build was completed by December 25, 1990.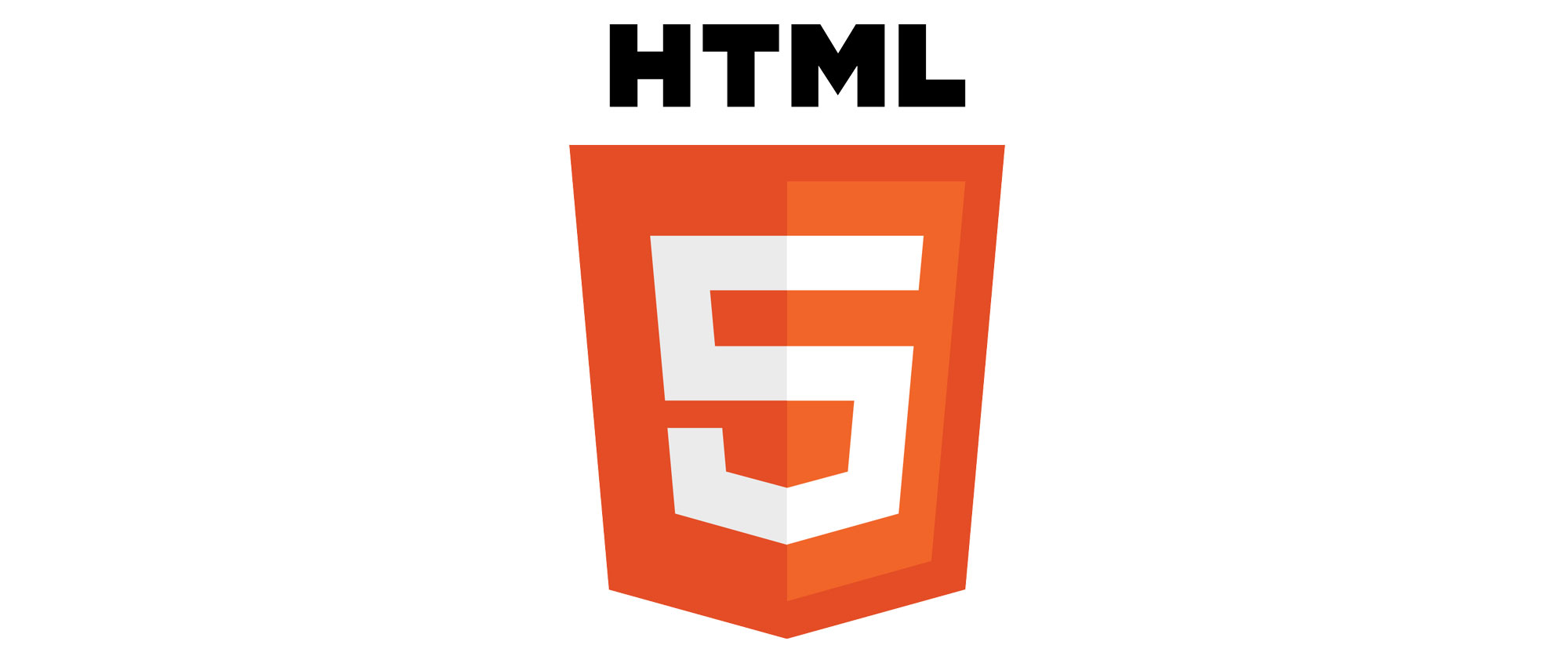 HTML [1990]
In 1989, Berners-Lee wrote a memo proposing an Internet-based hypertext system. Berners-Lee specified HTML and wrote the browser and server software in late 1990.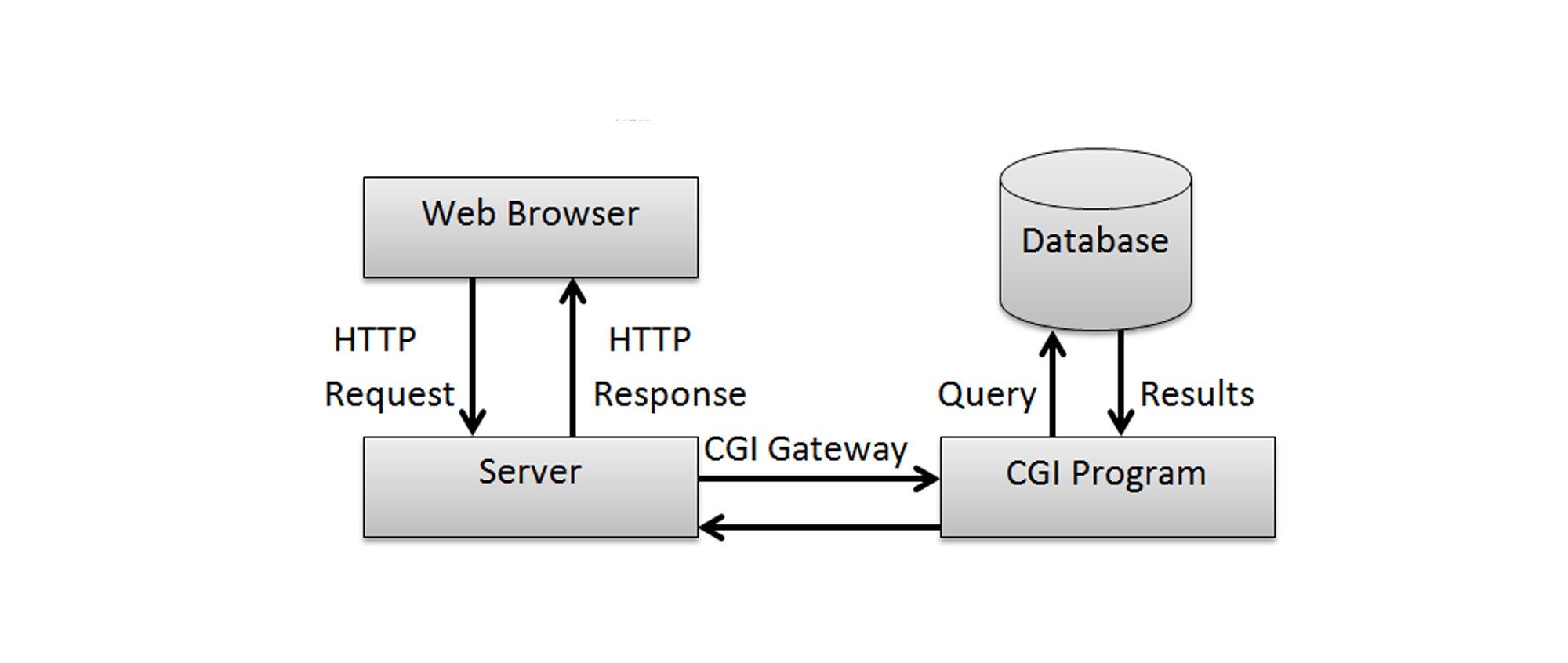 Common Gateway Interface (CGI) [1993]
In 1993 the National Center for Supercomputing Applications (NCSA) team wrote the specification for calling command line executables. [1]

MySQL [1995]
The first version of MySQL appeared on 23 May 1995. [1]

Cascading Style Sheets (CSS) [1996]
CSS was first proposed by Håkon Wium Lie on October 10, 1994. At the time, Lie was working with Tim Berners-Lee at CERN. The World Wide Web Consortium (W3C)
released CSS Recommendation (CSS1) in 1996. [1]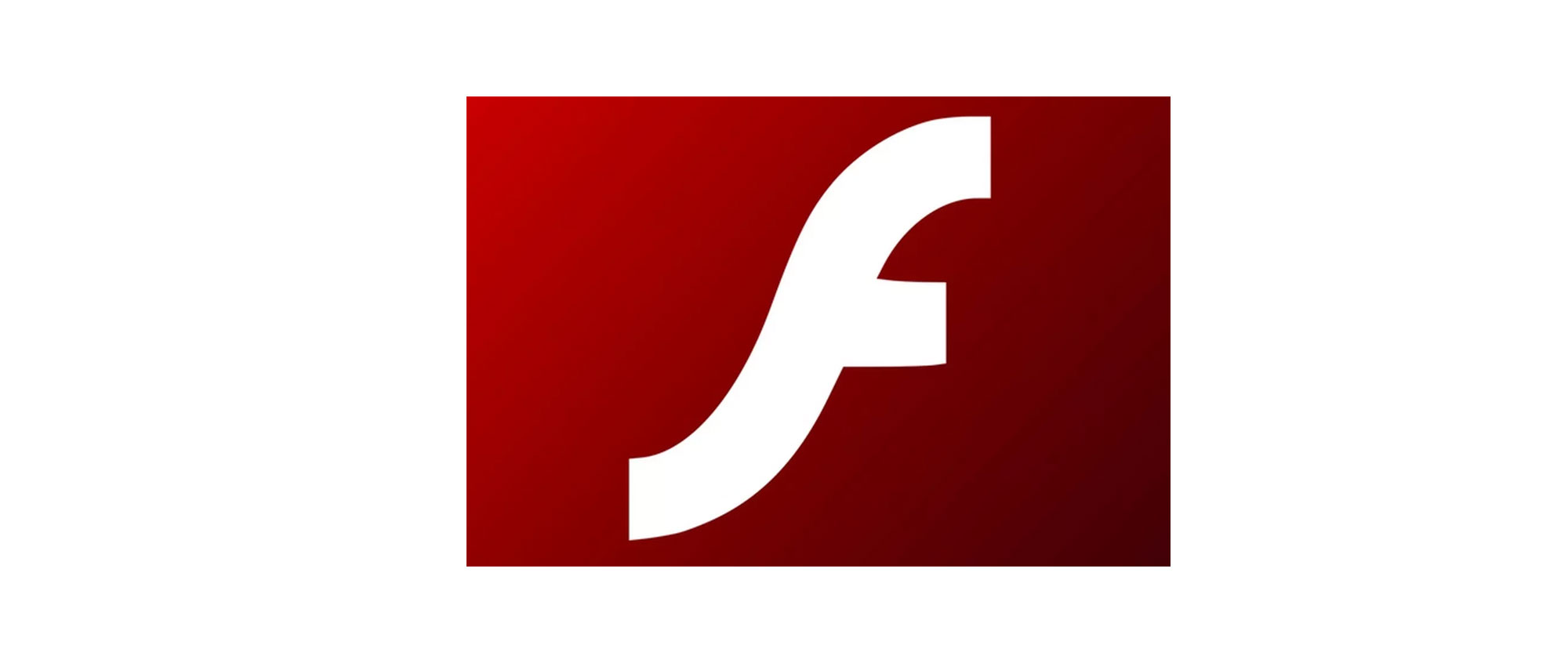 Flash [1996]
In November 1996 Macromedia released Macromedia Flash 1.0. Flash as a two-part system, a graphics and animation editor known as Macromedia Flash, and a player known as Macromedia Flash Player. [1]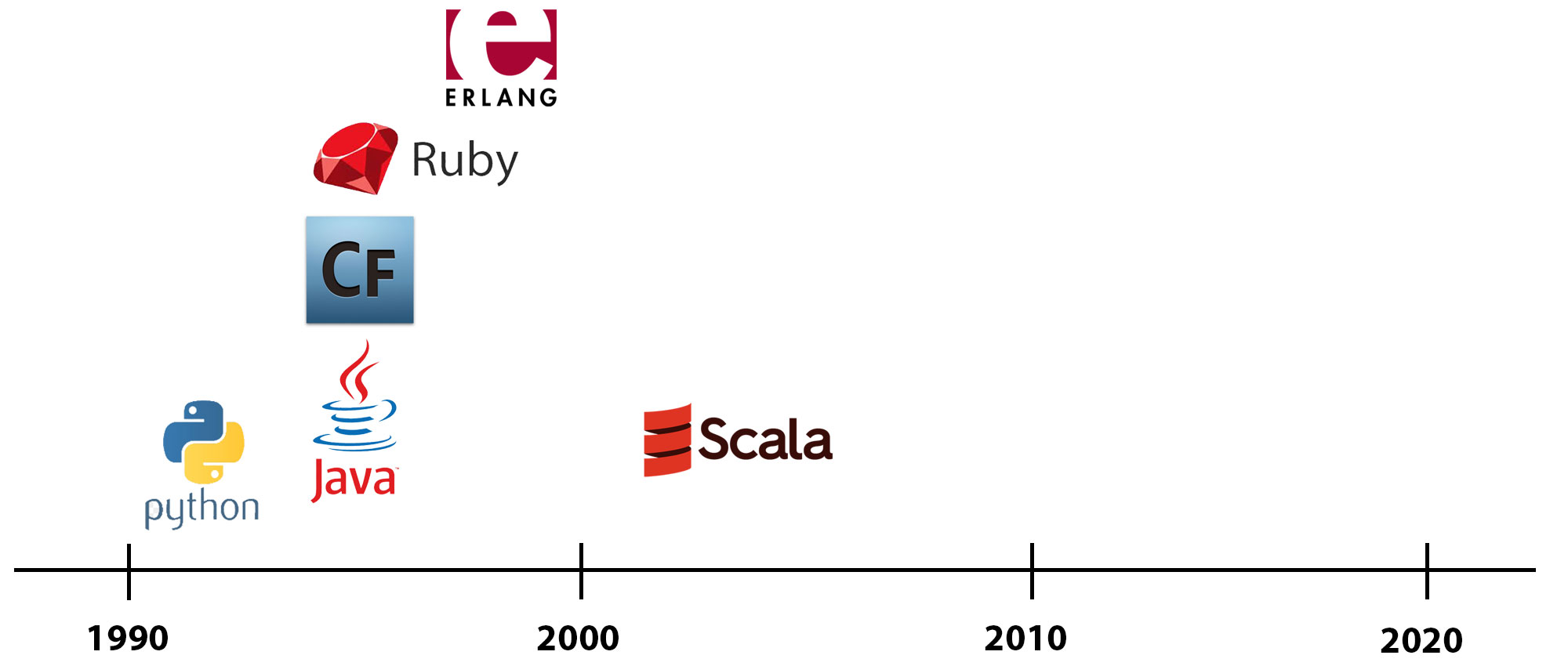 Others
Many others including: (date / usage) Java, (1995, 3.4%) Ruby, (1996, 3.0%) Scala, (2004, 1.6%)
Python, (1991, 1.2%) ColdFusion, (1995, 0.5%) Erlang (1998, 0.1%) and more.[1]
1. https://w3techs.com/technologies/history_overview/programming_language/ms/y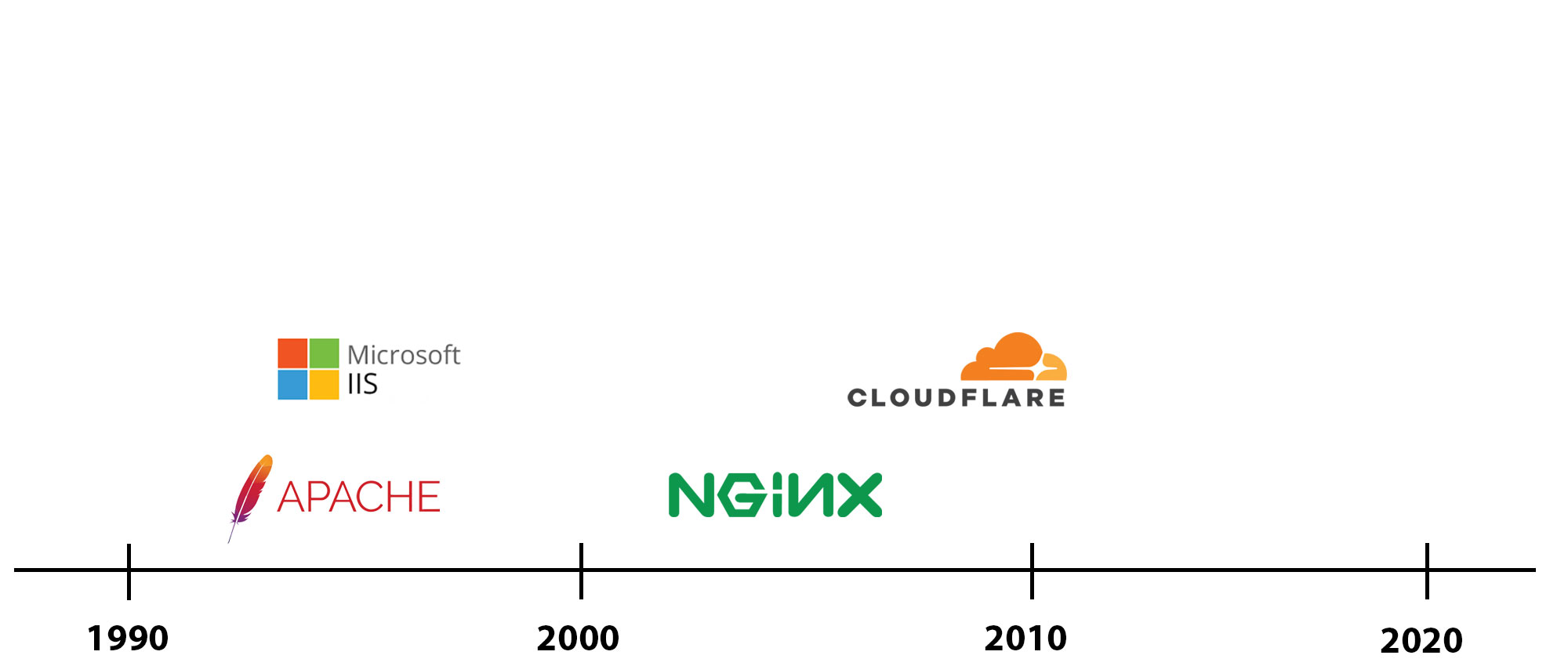 Web Servers
Apache, (1995, 41.6%) Nginx, (2004, 31.4%) Cloudflare Server, (2009, 12.6%)
Microsoft-IIS (1995, 7.9%) and others. [1]
Code Editors
Emacs, (1976) Notepad, (1985) Vim, (1991) BB Edit, (1992) Microsoft FrontPage, (1996) Microsoft Visual Studio, (1997) Dreamweaver, (1997) NetBeans, (2000) Eclipse, (2001) TextMate, (2004) Coda, (2007) PhpStorm, (2009) Sublime Text, (2012) VS Code, (2015) and others. [1,2]
1. https://en.wikipedia.org/wiki/List_of_HTML_editors
2. https://en.wikipedia.org/wiki/List_of_text_editors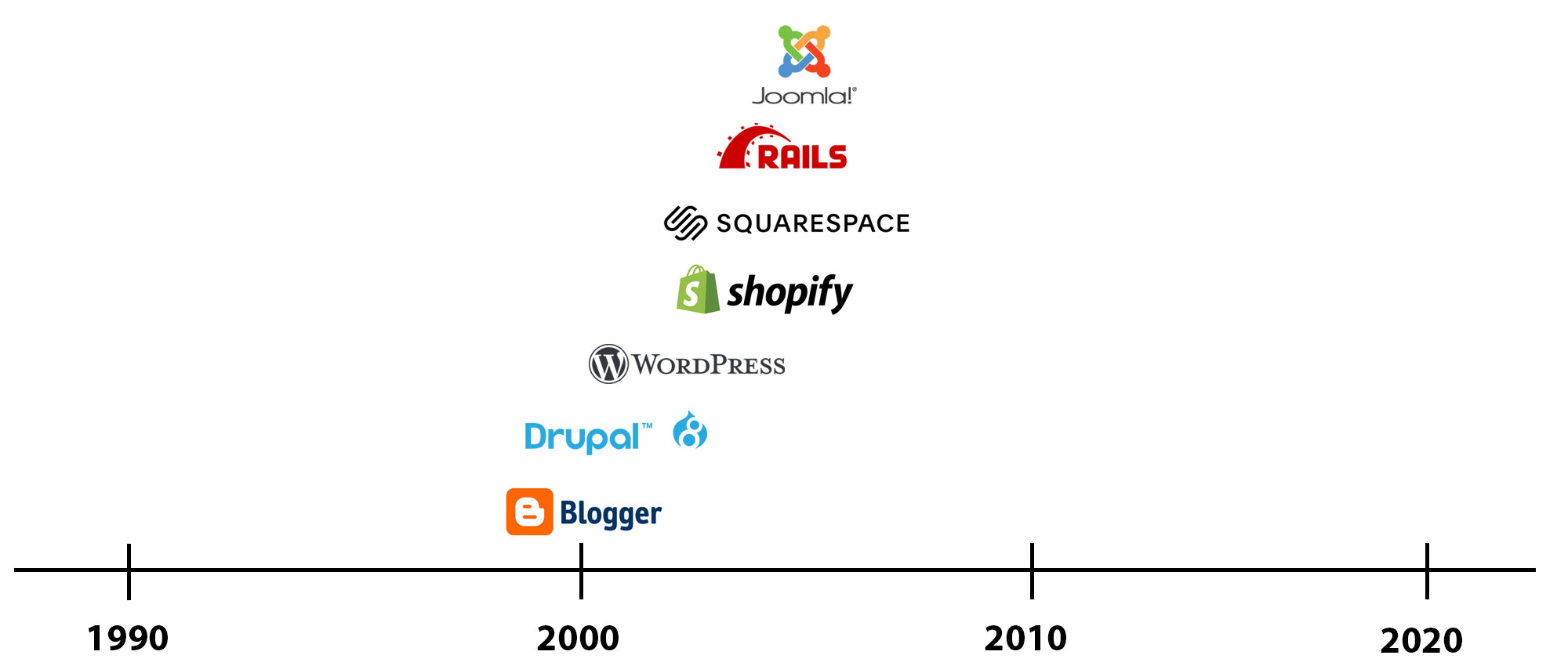 CMS & SaaS Tools
Wordpress, (2003, 35.5%) Joomla, (2005, 2.6%) Shopify, (2004, 2.0%) Drupal, (2000, 1.7%) Squarespace, (2004, 1.5%) Wix, (2006, 1.3%) Blogger, (1999, 0.9%) and many others. [1]
1. https://w3techs.com/technologies/overview/content_management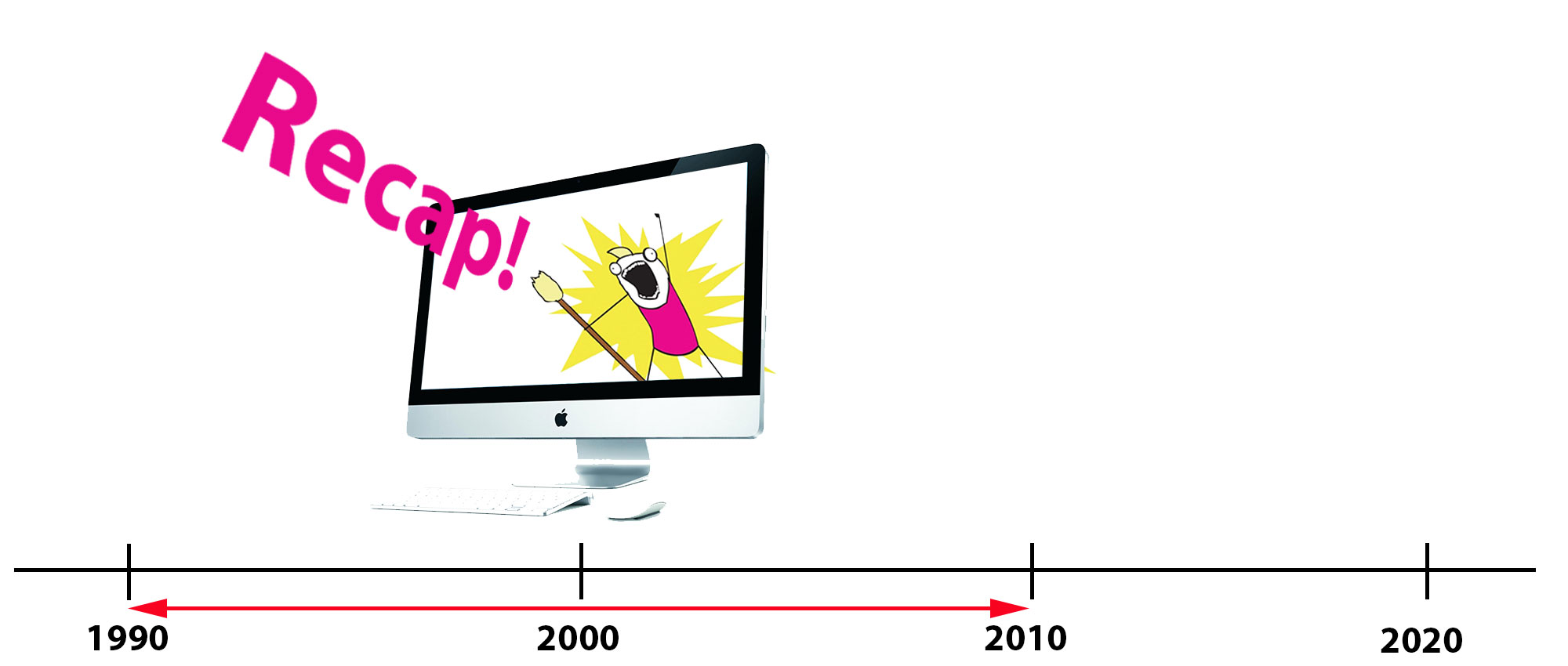 Recap: The First Two Decades
The 1990's
HTML, (1990) Perl, (1994) PHP, (1995) Javascript, (1995) MySQL, (1995)
CSS, (1996) ASP, (1996) Flash (1996)
A boom in basic web technologies.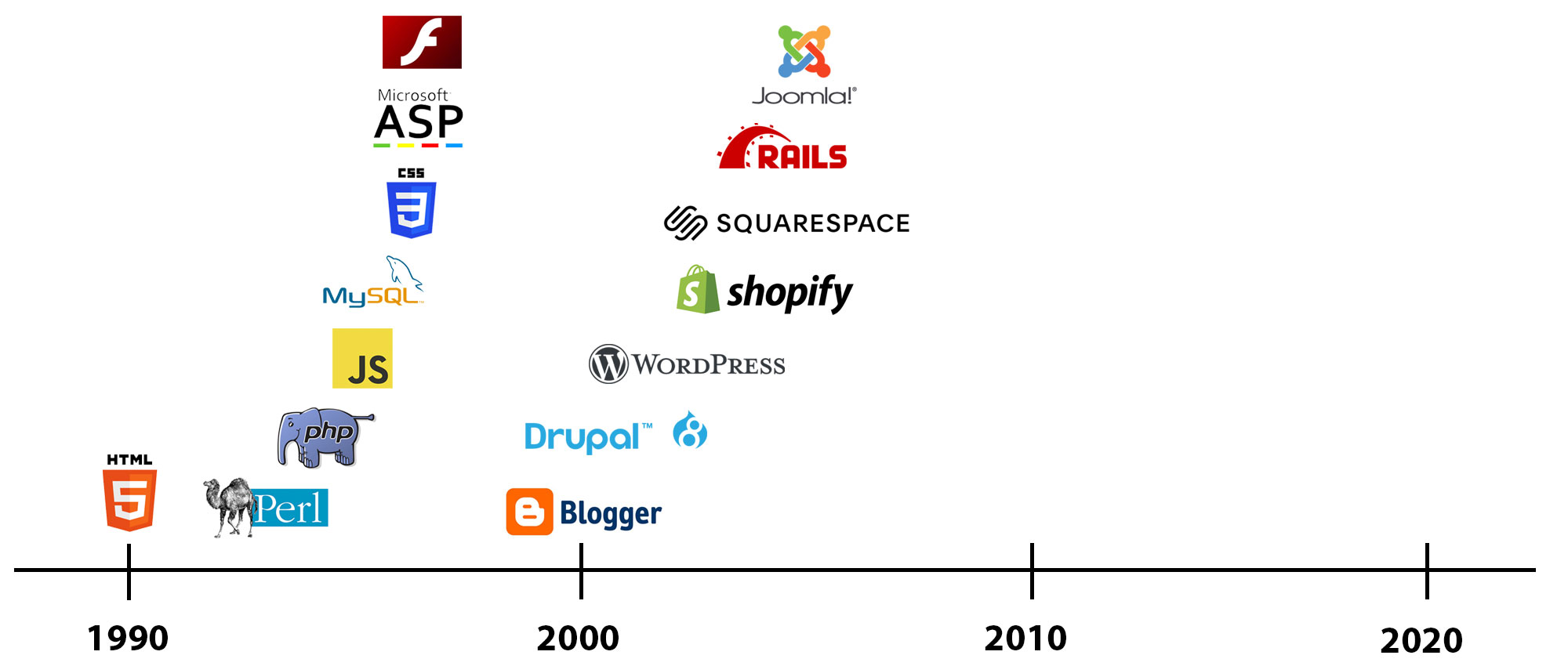 The 2000's
Blogger, (1999) Drupal, (2000) Wordpress, (2003) Squarespace, (2004)
Rails, (2004) Joomla, (2005)
A boom in tools that used basic technologies.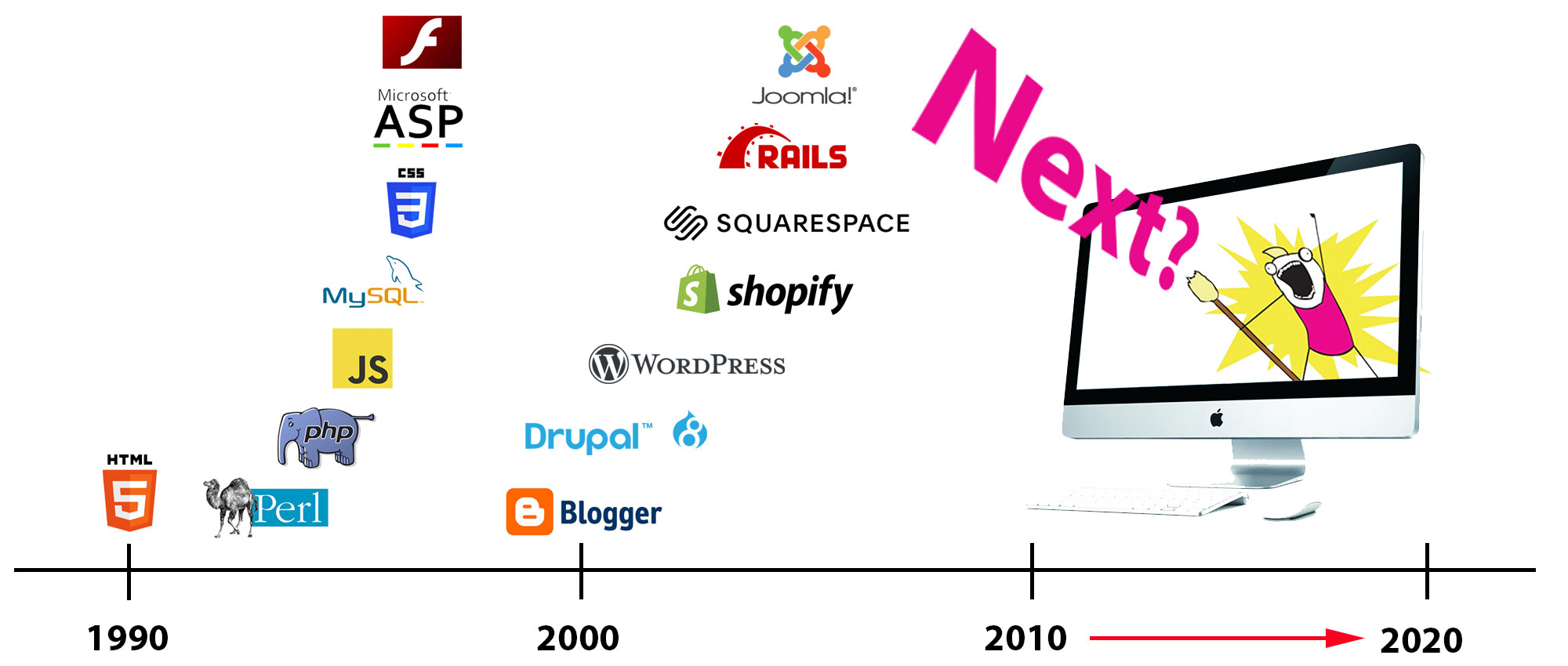 2010-2020
What's next? Where are we now?

2. Where are we now?
An explosion in five overlapping areas during the past decade:
The rise of JavaScript frameworks/libraries
Decoupling frontend from backend ("headless")
Many new options for "backend as API"
Static site generators on the rise
New deploy, build & hosting services make it easy

3. Options for CMS as backend API
Traditional: Wordpress, Drupal, Shopify, Django, etc.
New: Contentful, (2013) Sanity, (2016) GraphCMS, (2017) Netlify, (2014) Ghost, (2013)
Prismic, (2013) Statamatic, (2012) Grav, (2015) Kirby, (2012) Forestry, (2015)
Tina CMS, (2019) and many others. [1]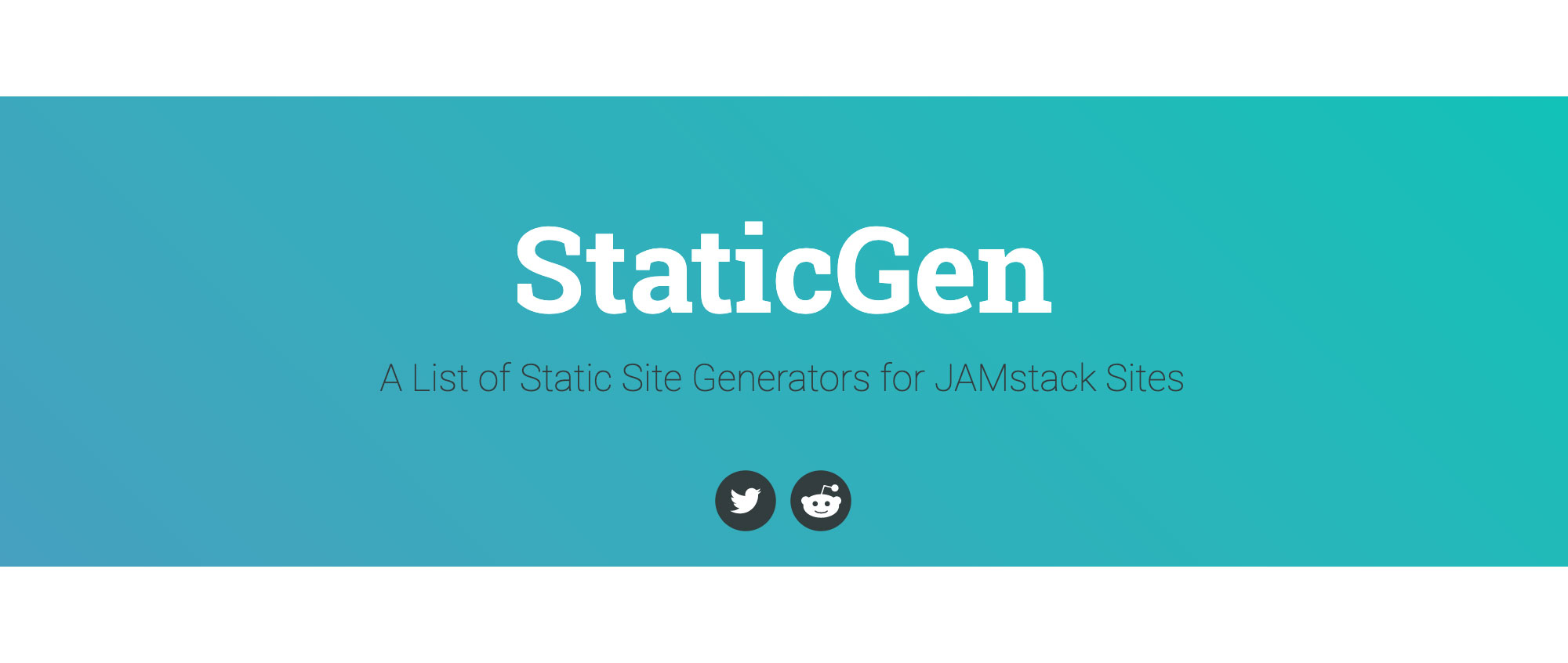 4. Static Site Generators
Jekyll, (2008) Hugo, (2013) Eleventy, (2017) Next.js, (2016)
Nuxt, (2016), Gatsby, (2017) and many others. [1]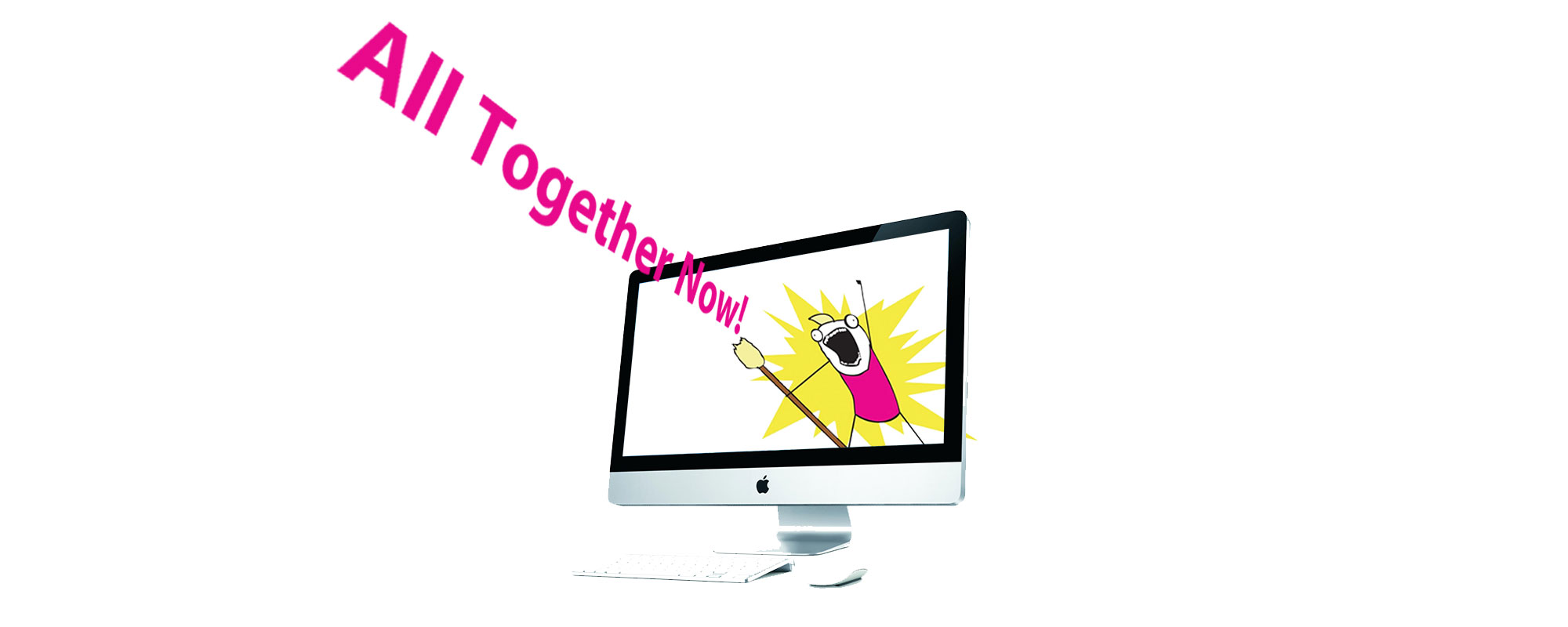 All Together Now!
1. Javascript frameworks + 2. Headless API + 3. Backend-only CMS
+ 4. Static site generators + 5. Deploy/build/hosting

Example: Gatsby + Wordpress
This shows one of many options: using Gatsby as static site generator and frontend, with an API from Wordpress as backend.[1] Within Gatsby, GraphQL sucks in the data from the JSON API, then React queries GraphQL for data and builds the HTML.
Normally this is all server-side rendered -- static site, for speed and security -- but nothing stops you from client side calls to the JSON API from React.

Gatsby + Wordpress + Netlify
Hosted on Netlify, which does both the Gatsby build process
and hosting of the static files. [1]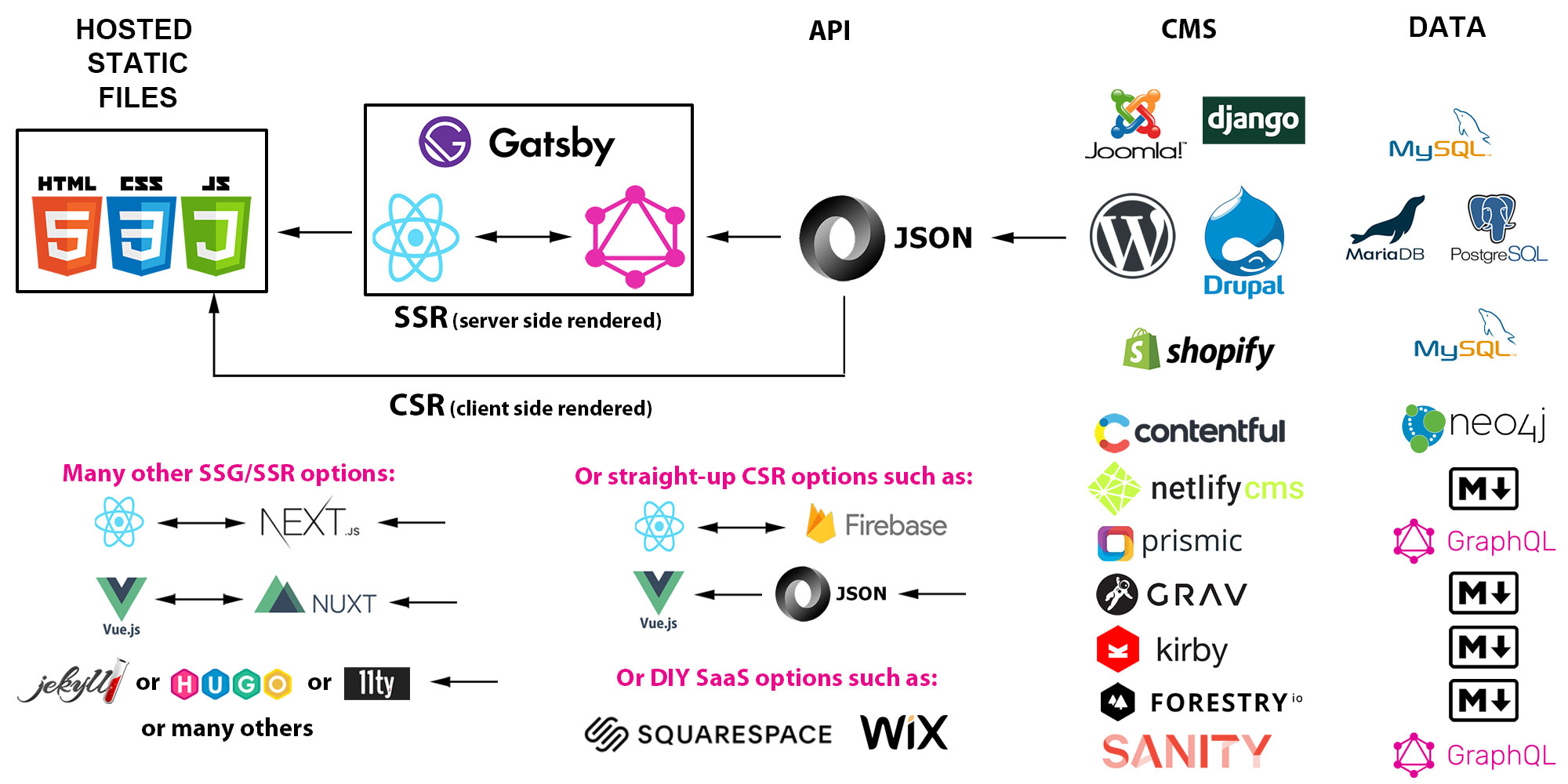 All The Ways!
Many options for SSG/SSR, back-end & data store, straight-up CSR and DIY-Saas.
This one slide is what this talk is all about.

How does it work?
Brief demos to give you a taste.
[videos: 21 minutes]
Squarespace [video: 3 minutes]
Github Pages [video: 2 minutes]
Eleventy (SSG) + Sanity (CMS) + Netlify (host) [video: 5 minutes]
React (CSR frontend) + Firebase (backend) + Netlify (host) [video: 6 minutes]
Gatsby (SSG) + Drupal (CMS) + Pantheon (host)+ Netlify (host) [video: 5 minutes]

1. Squarespace
Let's start with one of the simplest methods, deploying a website with Squarespace.

2. Github pages
OK now custom coded site, deploying a website with Github Pages.

3. Eleventy + Sanity + Netlify
Eleventy (2017) is an SSG, gaining popularity.
Sanity (2016) is a back-end-as-API using GraphQL.

4. React + Firebase
This is very dynamic CSR application -- the opposite of a static site.
In this case the React frontend serves as the CMS (editor of the Firebase data).

What's going on?
You need a server that runs Node.js (Netlify) to do the Gatsby build process, and a host running PHP, a database, etc, (Pantheon) for the Drupal site.
There are many hosting options out there.